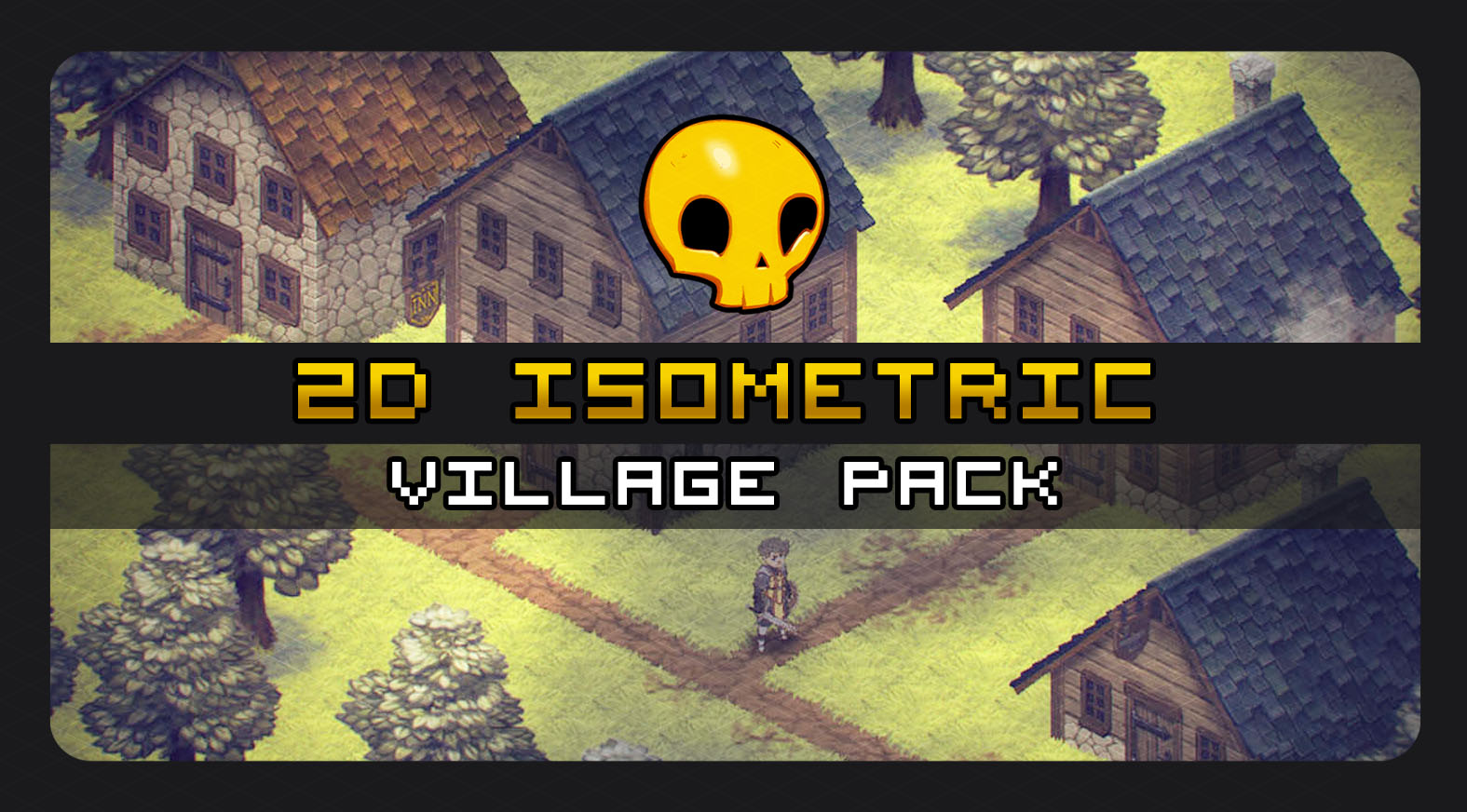 2D Isometric Village Tile Pack
A downloadable asset pack
---
itch.io exclusive offer: 20% Off
$25.00 USD --> $20.00 USD
---
ABOUT

Current version: 312 Sprites & 80 Mesh(es)

300+ hand-drawn isometric sprites in high resolution with many seamless tiles.
The ideal package to build villages for isometric rpg tactics games.
The pack contains various tiles for walls and roofs but also windows, chimneys, a tree, wells and many more.

As a treat, I added 2.5D conversion meshes for free, so you can use the tiles for 2.5D prototypes as well as your 2D maps.

---
CAUTION
[1] Some of the screenshots show ground tiles like patchy grass and cobblestone, those are NOT part of the pack, but from the 2D Isometric Tile Starter Pack. However, I included a dirt and grass tile for free.
[2] Tiles are optimized for an x-y-z setup that we use in our worldbuilder(see screenshot), and will not stack properly in a standard 2D setup without y-position placement adjustments.
---
Technical Details
Each Tile is set up within a 512px x 512px grid cell. (Except Props)
Each Tile Spritesheet can contain up to 64 of those textures
Using a 2:1 iso grid (no "real" iso angles)
The base grid is x:400px y:200px
---
Contents
312 2D Sprites as 10 Spritesheets and individual PNGs

169 Walls

64 Wood
64 Stone
17 Misc
24 Overlays

102 Roofs

52 Hay
16 Brown
18 Blue
16 Red

36 Props

2 Doors (1 open, 1 closed)
7 Windows
2 Chimneys
8 Barrels&Crates
3 Foliage
1 Fence
10 Wells
3 Signs

5 Misc



80 2.5D Conversion Meshes

27 Wall

10 Stone
10 Wood
7 Wood-Raw

38 Roof

8 Hay
10 Brown
10 Blue
10 Red

15 Misc

3 Stone Foundations
8 Timber Frames
1 Props
3 Ground
---
License

Commercial Use
No time or project use limitation
No revenue cut (feel free to donate though :P)
Can be altered and modified for use in project.
No redistribution of package, its contents, altered or derived versions.
---
Known Issues

Stone Wall Tiles with Timber Frames have border artifacts
Some props are blurry
Signs are placeholders
---
Update & Version History
21-03-2017 (Initial Release): 312 Sprites & 80 Mesh(es)
---
Update Plans

Fix known Issues (April 2017)
---
Update Requests

Submit Requests through our discord channel (Link in the support section).

[Request] Separate Sprites
[Request] Additional Roof Variations
more fences & 2.5D Fences
more signs
more windows
more doors
additional village ground tiles
*If you wish to support the creation of additional updates for this package, please consider paying more than the recommended price, we will notice it and update our schedules accordingly.
---
Support/Chat

We offer free support through our Discord Channel.
You may ask questions before purchasing aswell.
---
Like our packages? Here is how you can support us:

give us feedback, so we can improve our packages
spread the word
follow us on social media
share our posts
pay more than the minimum price
donate
---
Purchase
In order to download this asset pack you must purchase it at or above the minimum price of $20 USD. You will get access to the following files:
PNGs (individually)
53 MB